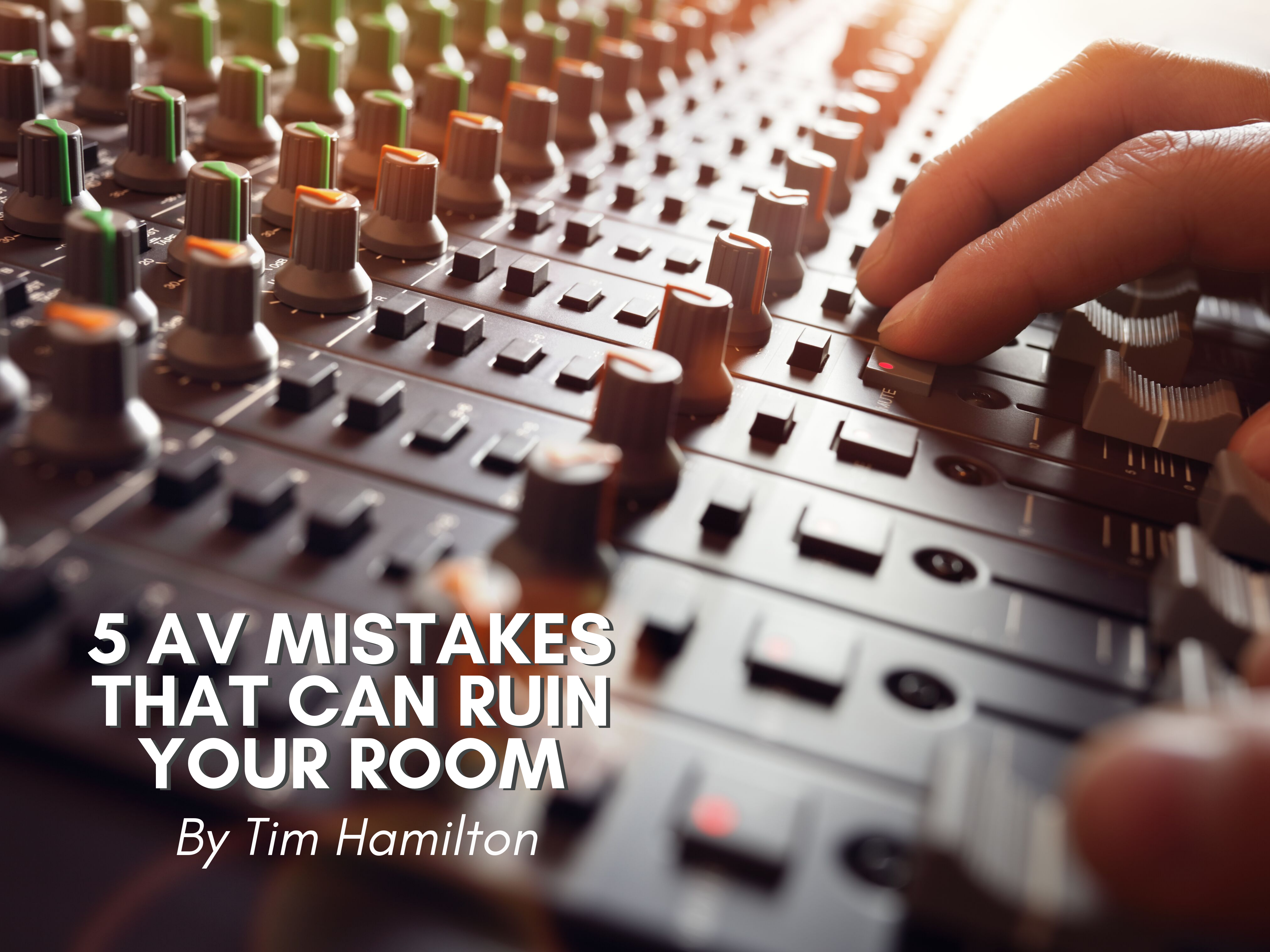 Let's face it. Most spaces that we design, build, and use have some level of technology in them. Whether we are talking classrooms, meeting rooms, restaurants, homes, or warehouses, the vast majority will have a display, loudspeaker, or some other technology in them. If you don't do the AV and technology right, you can really compromise the long-term use of a space. Let's look at 5 AV mistakes that can ruin your room.
1. Unrealistic cost expectations. Probably the biggest mistake we see is people who have an unrealistically low expectation of total project cost. Once they realize that the technology they want is beyond their budget then things have to be cut back. This is bad for the tech in the space but can also cause expensive revisions to the a architectural design of the space. Establishing an accurate AV and technology budget early in the process can help you avoid this embarrassing mistake!
2. Not planning for tech space. The second mistake is when the room design is finished, and adequate space/locations have not been provided for the technology. Sometimes this is things like not having dedicated data closets or amp rooms, but it also extends to things that may not be closely considered during design, like where technicians will control systems from or how displays and screens are going to look with the wall coverings and trim.
3. Thinking only aesthetics matter. I know that the aesthetics of the room are important. The colors, the trim, the shape and feel. Very important. But if those things override everything else it doesn't work. Loudspeakers and displays generally need to be in locations where they are visible. They may even be focal points for the room. If we fail to prioritize the location needs of these devices, we may end up with a pretty room that doesn't actually work very well.
4. Missing on acoustics and sound. These may not be directly AV items, but they have a huge impact on how loudspeakers work (or don't) in a room. Designing a room with lots of pretty curves and parabolas on the walls or ceiling or even lots of glass walls may have some great aesthetic look (see number 3 above) but can cause other systems to be unusable. The good news is that with the proper team in place and timely design assistance it is possible to mitigate these kinds of potential problems.
5. Thinking of AV too late. Sometimes, in some projects, the AV is left until "later" in the project. It's sort of something that we'll just put up in a few places if we have enough money at the end. Thinking of AV as an "Add On" and not as an integral part of the room can cause trouble in not have infrastructure in the right places or not having the space usage properly planned. We recommend that even if you're not going to install the AV equipment now, you should get the AV designer involved early enough to avoid missing important things at the end.
Like many potential mistakes, most of these things can be avoided. The best way to keep your projects on track and looking sharp is to get the AV designer involved early in the process and get a good plan in place for where your room's technology needs to end up. Get in touch with us today and we'll be happy to get things on the right track!