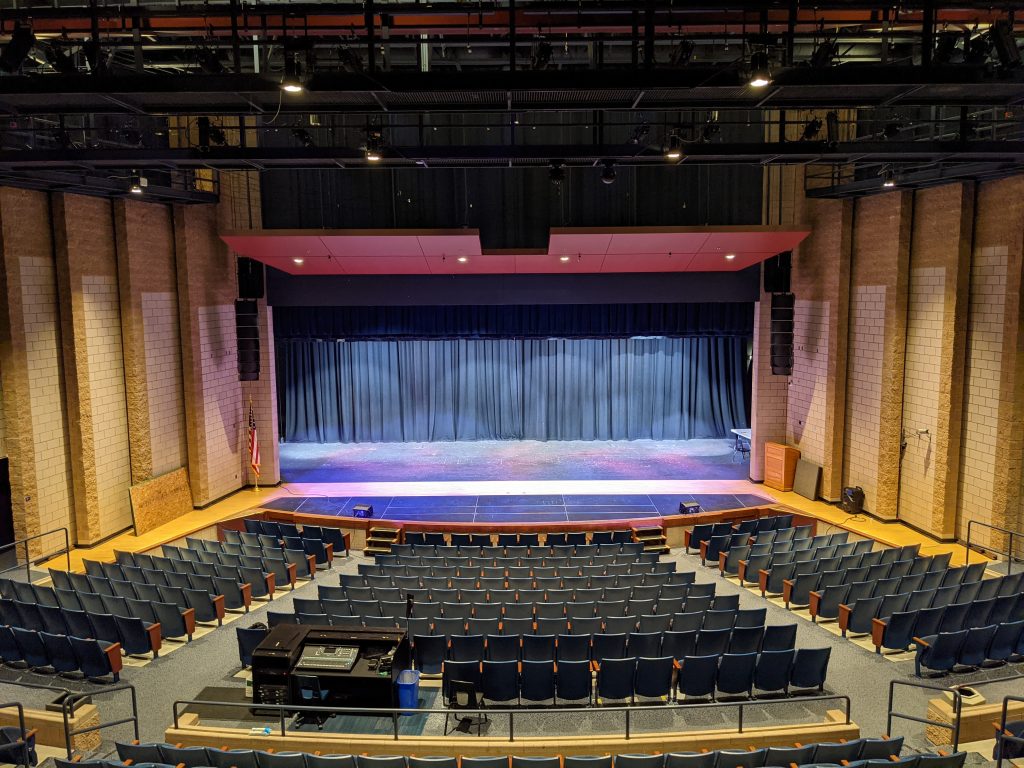 Boyne City Schools built their current High School a little over 20 years ago. While a few technology updates had been implemented in the auditorium, most of the sound video and lighting systems were still the original equipment. Knowing that a bond vote was coming soon, Superintendent Patrick Little contacted Tim Hamilton at HAV Design to assist with an assessment of the current systems in order to to include a budget as part of the bond.

Bond passage means a completely redesigned AV system
With the successful passage of the bond the following year, Superintendent Little again enlisted the services of HAV design to complete the system design and specifications for the new sound, video, and lighting systems for the auditorium.
Working with the staff and community Tim Hamilton from HAV Design developed a plan to replace the original analog systems with new digital infrastructure. Audio and video would run over network-based IP systems while the stage lighting system would be updated to all new LED fixtures.

Design Solutions and Addressing Supply Chain Issues
With the new system design completed in late fall, the project was put out to bid and subsequently awarded to Sound Environments for the lighting and Division 16 for the AV for installation the following summer. Even with a generous time schedule for equipment to arrive, supply chain issues held up some of the new equipment. In conjunction with the contractors and school, HAVD worked to make product substitutions and system work-arounds to get the systems operational in time for the the start of school in the fall.

Flexible Solutions and Integrated Touchscreens
With the completion of the new systems, the school now enjoys the energy saving LED light fixtures, fantastic sounding Fulcrum Acoustics line array speakers, easy-to-use Allen & Heath mixing console and flexible video system. The new simple touchscreens on stage and in the booth also offer an easy way for non-technical personnel to use the system.
"HAV Design was instrumental in assisting us to get our new systems installed. Always helpful and professional, I would absolutely recommend them for anyone who needs audio, video, or lighting work to be done!"

Patrick Little, Boyne City Schools Superintendent