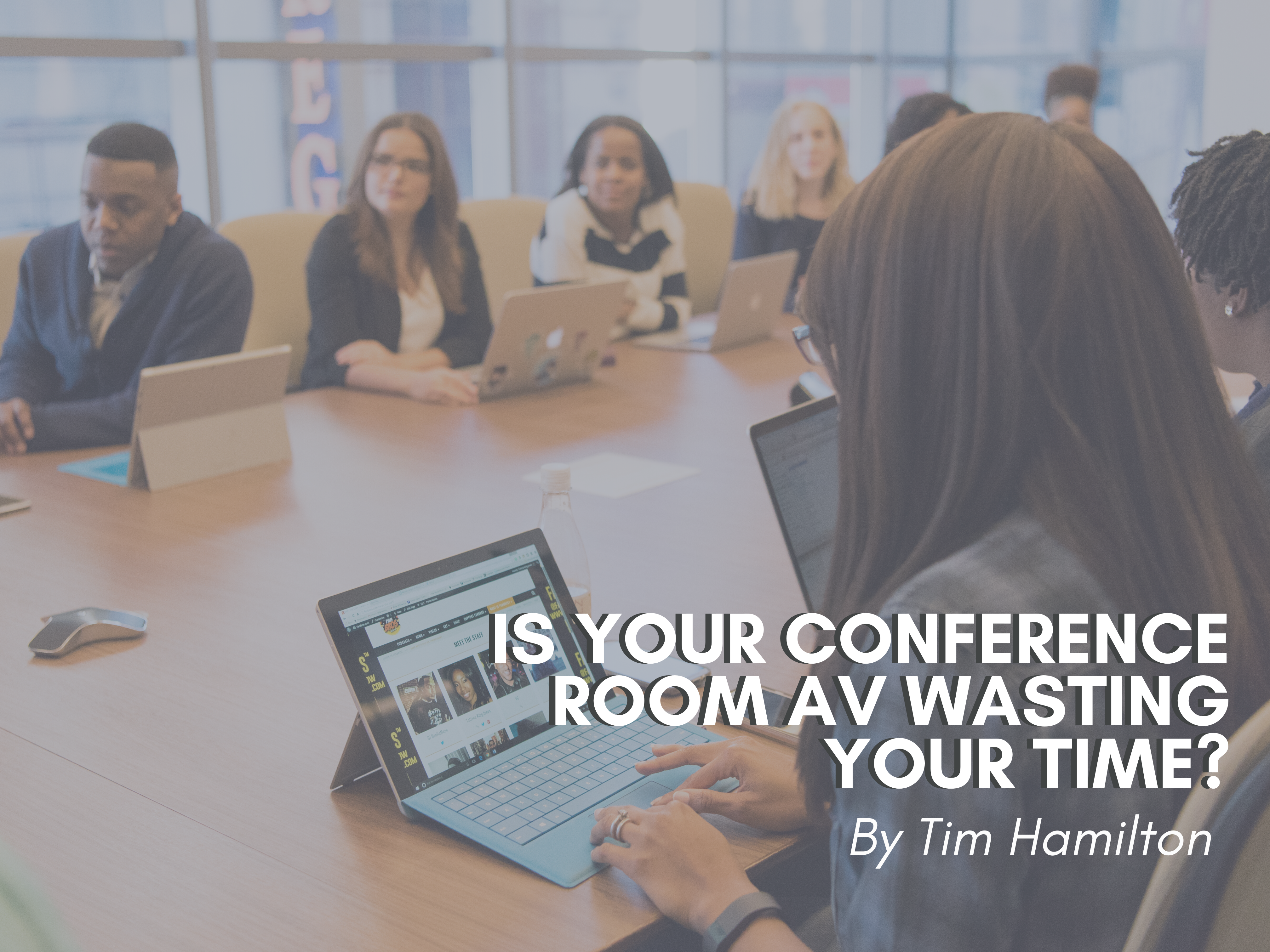 Clunky Conference Room AV Wastes Time
AV is pretty simple.  At least it sure seems like it should be. I mean, how hard can it be plug a couple of pieces of gear together and view it on a screen? Well, I suspect that most everyone who reads this has been in a room as a participant or presenter where the AV didn't "just work." Honestly, AV is a niche industry – just a small part of any construction project, but when the AV doesn't work in a space then the whole space starts to feel like it doesn't work.
When "Simple" AV Systems Don't Work
Case in point…we have an architect that we do projects with on a regular basis. So we have meetings in their conference rooms once or twice a month. Every time (and I mean every time) it is a struggle for them to get the AV to do what it should. Most meetings have at least one person in a remote location so the group is trying to share content with them, see it on the screen in the room, and have the audio be heard in all the places. Should be easy, right?
Several different software and hardware platforms are supposed to be working together, but unless you really are an AV technician, it is tricky to get them all launched, connected, and configured in the right sequence so that everybody can be in the meeting. I resist the urge to jump in and troubleshoot, but it illustrates a big problem in that simple systems that should "just work", don't "just work".
It Takes an Average of 8 Minutes to Start a Meeting
Did you know that business consultants estimate that the average time it takes to start a meeting is 8 minutes?  From when everybody is in the room, to when we have all the technology situated and running…8 minutes. For an hour-long meeting that's a huge percentage of the meeting time. Our project meetings with the architect tend to average a little longer than that…closer to 10 minutes. Multiplied by the 10 or 12 people who are all waiting for the meeting to start and we can see how costly this is!
Let Hamilton AV Design Simplify your AV System
The systems we design for meeting rooms, churches, auditoriums, etc. are complex.  But our job is make them simple and easy to use.  Of course, it takes some time and effort to design systems that work great and are easy to use, but the cost of having them under designed and difficult to use can be substantial.
If you have an AV system that you suspect is costing you and your team time and money because it's under designed and cumbersome to use, let's talk. We love the challenge of making the complex systems hassle free for those who use them.