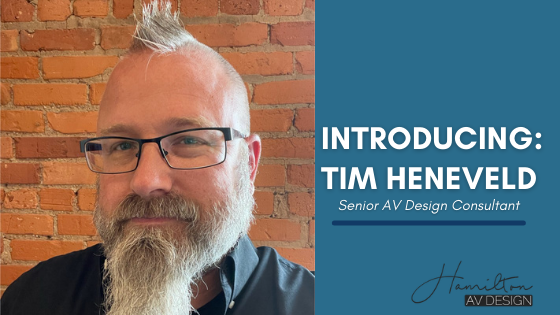 We're pleased to share that the Hamilton AV Design team is growing. Tim Heneveld has joined our team as Senior AV Design Consultant.
Get to Know Senior AV Design Consultant Tim Heneveld
To help you learn a little more about Tim and his background, we peppered him with questions that will help you get a sense of his unique perspective, and why he's such a great fit for our growing team:
How did you get started in AV? And what continues to inspire your interest?
My fascination with AV began when I was 7 or 8 years old.  My older brother figured out a way to wire the tape recorder directly into our home stereo system so we could record songs off the radio without setting the tape recorder in front of the speaker and using its microphone.  This was a mind blowing implementation of technology that was going to revolutionize the quality of my pirated music.  I was hooked.  I wanted to know how it all hooked together.  Were there other ways to make it a better experience?  Why were none of my friends doing this?  Didn't they know that listening to their music could be so much better?  This drive to create the best possible solution for a given AV situation still drives me today. 
How would you describe your professional background?
My background in the AV industry is very hands-on.  I had to experience every step of the AV process for myself.  That way I knew what the struggles and joys were at every level.  Experiencing the struggles and victories first hand has allowed me to realize that the design concept of an AV system matters.  It can't just be cutting edge, it has to be usable and straightforward to install.  It can't just contain "cool gear", all the pieces need to work together with a purpose.
What would you identify as your particular niche or area of expertise in AV design?
I am a puzzle solver.  I am best at taking all of the loose concepts and dreams of what a system needs to do and boiling it down to the simplest and most efficient way to become a complete system.
Any AV projects of your own that you're proud of?
Over the years I have had the opportunity to design numerous projects that had elements that I'm really proud of.  If I had to narrow it down to a single project it would be a higher education facility that, at first look, may seem pretty basic.  It was a series of multi-use presentation rooms, common areas, café, and large divisible event center.  What made this facility special was that it could transform from extremely simple single source presentations to massive building-wide events that shared complete AV between any room in any configuration.  While this still seems pretty typical in today's world, the entirety of the technology was refined to a point where untrained facility staff could set up and facilitate entire events.  No full-time AV staff to wrangle the systems into working condition.  A solution that took the unlimitedly flexible and made it simply attainable. 
Where, in your opinion, is the best place in the midwest to take in a concert, show, movie, etc. from an AV design perspective? In other words, who do you think has really dialed in the AV experience for their patrons?
I would say that the House of Blues style venues provide the best experience for a live show.  The rooms are purpose built for reinforced audio so the acoustics do not detract from the experience.  And the intimate scale of the space allows the lighting and visuals their full impact.
What elements of an AV Design challenge do you find to be the most professionally satisfying?
Sorting through the seemingly infinite choices of equipment to find the right one to serve the specific purpose needed in a design.  Solving the puzzle.
Are there any technological developments that you foresee having an significant impact on the way we think about AV design in the next few years? (AR and VR, edge blending projection, etc.)
I think as AV designers we are getting pulled head long into the convergence of IoT (Internet of Things) and AV.  The personal interaction of home and automobile automation are now expected to be present in a multi-use/multi-functional space.  Spaces are expected to adapt and function as if they were solely designed for whatever the User wants to happen. 
In a few words, how would you describe a quality AV Design and experience? 
Clean.  Refined.
A well designed AV system and experience shouldn't draw attention to itself but rather showcase what it's there to support.  You shouldn't have to "figure out" how to use it.  It should present itself in a natural way that draws you through each step. 
What are you most excited about in working with Hamilton AV Design?
I'm excited to work with a company that genuinely cares about the details.  All the details from the employee to the product and everything in between.  Many companies have quippy mottos and slogans that talk about creativity, great solutions, bla bla bla.. But Hamilton AV genuinely lives the details.  I believe that you can feel that philosophy in the work that comes out of this company.  
Creative Problem Solvers to Address your AV Design Challenges
If you've got an AV design challenge, we've got the team of creative problem solvers to help you create a fantastic audio-visual experience for your patrons. To get in touch, just hit the connect button.