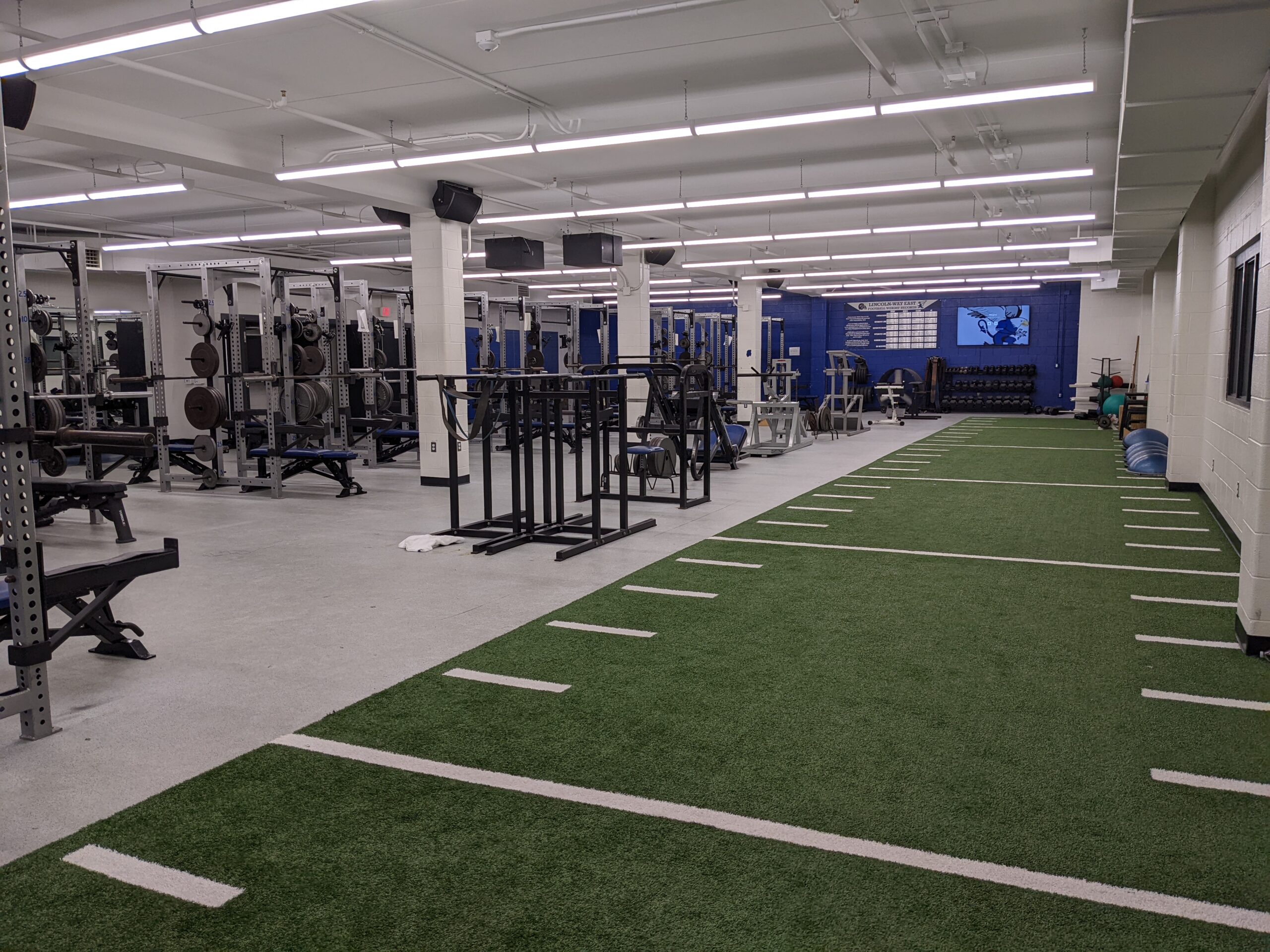 Lincoln-Way East Community High School has a long and storied tradition of sports. In support of the sports programs, in early 2020, the school set out to expand the strength and conditioning weight room used by most of the athletes. The school worked with their long time architects, DLA architects of Chicago Illinois, to explore what the new weight room should look like and how it should best function.
Sound is integral to Lincoln-Way East's Strength and Conditioning Room
A key part of that functionality is to have effective sound reinforcement in the space. Not only is music essential for strength and conditioning, but instructors need to have the ability to speak over top of the noise generated by dozens of athletes hard at work. Recognizing that the sound system was an integral part of the space DLA contacted their trusted AV design consultant Hamilton AV Design to design a new sound system to match the renovated space. Principal consultant Tim Hamilton worked with the design team to establish the needs and uses of the space and to come up with an effective but simple solution to providing reinforcement for the room.
The long and narrow room utilizes a series of Danley Go2 speakers to provide most of the coverage for the room. Accompanying the main speakers are a pair of Danley THMINI subwoofers to provide low frequency reinforcement for the room. Ashley processors and amplification provide power and control to the system while an additional input for a microphone, Bluetooth, and auxiliary inputs allows the system to have easy and effective control without having to have access to the amplifier rack. A Sennheiser wireless microphone rounds out the functionality for the system so that instructors can easily play music or speak over top of the music and noise of the space. "Lincoln-Way loves their new weight room and their sound system!" Says project architect Brian Scully from DLA:
"The system sounds great and lets the teams really use the space to its full potential.  Having the controls located outside of the main control closet allows staff to keep the space under lock and key while at the same time providing all the controls that are needed in order to make the system fully operational".
With the update to the space and their new sound system, Lincoln-Way East HS is well positioned to continue their winning traditions in sports!