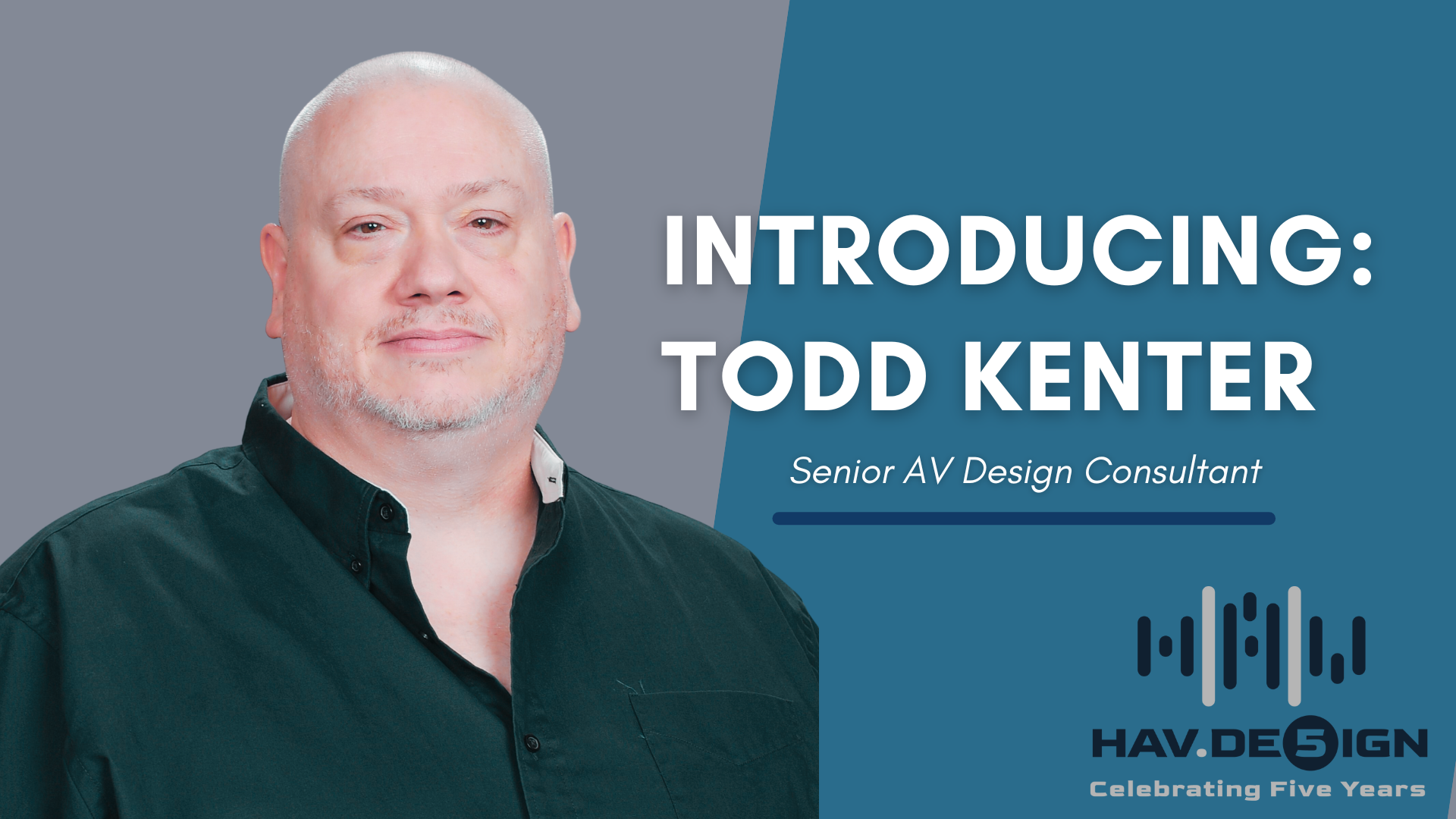 The HAV Design team is growing again to assist our clients with comprehensive AV design that simply works.  We're pleased to share that Todd Kenter has joined our team as Senior AV Consultant, and to help you get to know him, we've asked Todd to tell us about his career, favorite projects, and what excites him about joining our team.
How did you get your start doing audio, visual, and lights?
My first taste of AVL was "doing" sound and lighting for a Christmas show at a small church in 1989, as a favor to a friend's father. It has been a constant learning and growth process in the arts and architectural industries ever since.
How would you describe your career arc?
Whether creating sound and lighting designs for original theatrical works in college or mixing for regional and national touring artists around the US, audio was my first love. I got lured into lighting during college as a way to diversify my skill set but had no idea it would lead to a career in lighting.
What are some of the projects that have meant a lot to you over the years?
Designing for the inaugural Artprize competition (4th place entry "Grand Dance" by David Lubbers) or the 2003 traveling "Dead Sea Scrolls" exhibit at the Van Andel Museum were opportunities not many are gifted. 20 years in lighting sales, architectural lighting design, theatrical system design, and auditing for energy efficiency has made life profoundly enjoyable and educational. Now is the time for the next "stage" in my career.
Why are you excited to join the HAV Design team now?
I have known Tim for nearly 20 years, and I leapt at the opportunity to join the Hamilton AV Design team. My goal with HAVD is to provide quality designs to our clients and promote the growth of young talent by providing them with the tools to thrive in their education and career development.
We're Creative Problem Solvers that help Address your AV Design Challenges
If you've got an AV design challenge, we've got a growing team of creative problem solvers that can help you create a fantastic audio-visual experience for your patrons, community, staff, and clients. To get in touch, just hit the connect button.